Farrah isn't feeling to good today. She's burping a lot and the prednisone is still giving her the runs. She just seems to lie around right now, but this morning, she did want to go for a walk. She also did manage to get a little bit of a chicken bone that was outside...who put it there, I do not know, but that could be the reason.

Either way, I'm worrying again. Then again, she could be milking it some, considering she just ate half of my chicken soup. LOL That's what I'm hoping.
...yes, Farrah is tired today. She has been eating and taking her meds. She's playing with Gypsy...in more way then one, but then she gets tired. She's not the only one. I'm tired as well. Between taking care of her, chasing the puppy around and dealing with the cats (who are behaving amazingly well). I've also caught myself a nice cold, but I'm still putting Farrah first.

She woke me up at four in the morning to go outside, thanks to her meds, but when you got to go, you gotta go.

Still praying that a miracle happens. I also would like to thank everyone who is praying fir us. We really appreciate it and please, keep them coming.
December 2nd, 2005

I just back from the vet with Farrah. Her mass grew another 2 centimeters. It went from 4 to 6 centimeters. The good news is that the cancer didn't spread.....yet. The lymph nodes are still fine. She has been put on Prednisone, which will be started in the morning. Two pills for two days, then one pill for about four days, then a half a pill for the rest of the treatment. She also goes back in a month for another check-up. The family has opted to not do the surgery. There were more cons then pros with it. My vet also agreed with the fish oil, so we're keeping that up as well. I don't know whether to be happy because it didn't spread to her lymph nodes or to be upset because the mass grew a little.

Total Vet Cost: $75.00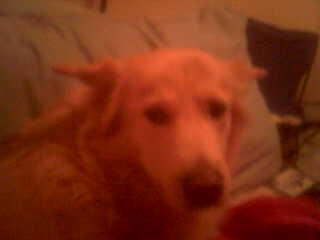 November 24th, 2005

It has been a rough past few days. A couple of days ago, Farrah threw up her breakfast. She ate fine the next day, but now today, she ended up having diarrhea and won't eat much at all. She's also very tired today and her joints are bothering her as well.

I've already sobbed a couple of times today because of her not eating much. I know it's just a bump in the road, but it's still tough. I'm letting her eat what she can and praying. She has gone outside a couple of times and biting a lot, but other then that, she just rests.

She goes to her vet next week, so we'll see then what happens. I know I'm very emotionally worn out, tired and now I've caught my own cold. Plus, dealing with a new puppy in the house, who I try to keep away from Farrah.

Lord, I pray that you give me the strength, because right now I don't have any.

Is it normal to feel like that?
November 14th, 2005

Well, it's been a week since Farrah's diagnosis. She still looks pretty healthy as of now. She's very picky with what she wants to eat. In other words, only Pedigree Wet Dog Food. LOL

She's taking her antibiotics wonderfully. She gets her Flax Oil/Cottage Cheese mixture twice a day. She also gets Salmon Oil two to three times a day as well. She does seem to have a little more energy Heck, she took me for a walk this morning! LOL

A lot of people are praying for her and to everyone who is.....we both thank you very much. We really do appreciate it.

I'm finally able to hold my emotions together now. This is going to be hard, but we'll get through it. I trust Farrah to tell me when something isn't right, like when she's ready to go. Until then, she's getting babied and I'm praying that this hollistic treatment works....and that a miracle comes from God. As I've said before, the family is putting their faith in him.
November 7th, 2005

I can't believe it. The worst day of my life. Farrah has been diagnosed with cancer. Yes. Cancer. It all started a couple of weeks ago. I noticed a bump on her backside. I thought it was nothing, but I watched it.

The next week, it still hasn't gone down. I made an appointment for Farrah for that Friday. Took her in, got her vaccinations and her vet did a Cytology on her, put Farrah on anti-biotics to prevent/treat an infection and told me that she would call on Monday with the results. Well, she called alright. This afternoon and told me. The only thing that I heard was that one dreaded word:

Cancer

I was scared like you wouldn't believe. She mentioned surgery to remove the mass and they would possibly test it, for a definitive diagnosis. The thing is, it's expensive.

If I don't do the surgery, I'll loose Farrah in six to eleven months. If I do go through with the surgery, she MAY have two plus years. She goes back in three weeks. We'll decided then, what we are going to do.

Farrah is only seven. I can't even be sure if she'll make it to eight.

I'm in shock right now. I've been crying all day. Trying to keep my emotions under control while around Farrah, but it's tough. She's been with me through thick and thin. I wouldn't have been able to deal with Flash's passing if it wasn't for Farrah. Not to mention that I had to put down a new kitten that I got a couple of months ago, because she was terminal as well.

This is completely tearing my heart out. I'm not sure if I'll be able to be strong after her, but yet I must be, for Farrah.

For Farrah

I pray to you God, please help save my baby girl. I love her to much.

Total Vet Costs: $276.04
For Exam, Parvo Virus Vacc., Heart Worm Test, Cytology In House, MiniPanel with CBC, Cephalexin 500mg Cap (her anti-biotic)
I have decided to move Farrah's blog over here instead. It will be easier for me to update.